A couple of weeks ago I posted some classic disco tracks that I feel had some of the classic disco sounds being used in Electro House currently. That's only part of the picture. Another part is the Post Punk early synth pop/new wave groups that (again, in my opinion) are influencing the Indie Electro Groups...the "rock" end of the Electro sound. I've posted some tracks, so you can hear what I mean. The first is Joy Division's "She Lost Control". The second is New Order's "Blue Monday"....New Order was Joy Division after Ian Curtis passed. The Third is Fischerspooner's "Emerge". The last is Cut Copy's "Hearts on Fire".
Other than the obvious dance feel to the tracks, I think that one of the things that ties this end of the Electro sound is the dark and sometimes melancholy nature of the tracks and lyrics.
In any case here they are (oh, we also have the Joy Division t-shirts in Radio Futura):
Here are the shirts first:
Ian Curtis (all over print)
Joy Division "Unknown Pleasures" (all over print)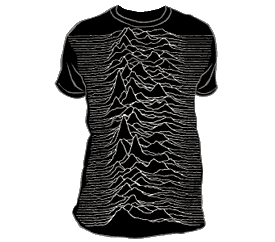 and here are the clips...
Joy Division "She Lost Control"
New Order "Blue Monday"
Fischerspooner "Emerge"
Cut Copy "Hearts On Fire"
oh...while I was watching the clips I came across another track that I thought was the shiznit--"Moon Over Moscow" by Visage. The guy in all the makeup is Steve Strange and also in this group was Midge Ure who also went on to participate in other projects including Ultravox and even the Live Aid Concerts.
Visage "Moon over Moscow"